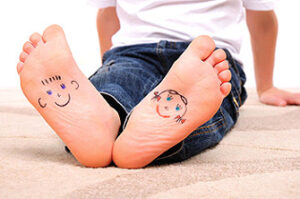 It is never normal for a child or adolescent to experience pain in his or her feet. Foot pain that lasts more than a few days and limits a child's ability to walk should be examined by a podiatrist. Many adult foot ailments originate in childhood and may be present at birth. Common foot issues that are experienced by children are pediatric flat foot, Sever's disease, ingrown toenails, and plantar warts.
It is best that you try not to force a child to start walking. Children will begin to walk when they are both physically and emotionally capable to do so. You should also avoid comparing your child's walking progress with other children because the age range for independent walking varies. When your child's feet begin to develop, you may need to change both their shoe and sock size every few months to allow room for their feet to grow.
Kids are sometimes prone to splinters, cuts, and injuries because they tend to walk around barefoot. This also makes them more susceptible to developing plantar warts, a condition caused by a virus that invades the sole of the foot through breaks in the skin. These ailments can be avoided by making sure your child wears shoes in unsanitary environments. You should also wash any minor cuts or scrapes on your child's feet.
Children and adolescents are also prone to developing Sever's disease or calcaneal apophysitis, which is the inflammation of the growth plate in the heel. Typically the result of overuse, Sever's disease often develops in active growing children. When a child or adolescent experiences a growth spurt, the tendon that attaches to the back of the heel (the Achilles tendon) pulls on the growth plate (the apophysis) of the bone of the heel (the calcaneus). Combine this with sporting activities such as soccer, football, or track and your child may develop Sever's disease.
As a parent, you should ensure that your child's feet are developing properly and are being properly maintained. Consequently, it is important that you perform routine inspections on his or her feet to detect any injuries or deformities in their early stages. Early detection and treatment will help to ensure that your child does not develop any serious foot conditions.
If you have any question about your child's feet we suggest you call our office to schedule an appointment.